Browse Our Recipe Categories
Newest Recipes
Mushroom Stuffing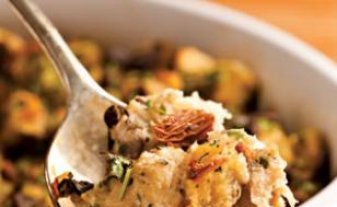 Mushroom Stuffing
1 loaf STAFF OF LIFE Herb Bread
3 tart green apples, cored, peeled, and diced
1 pound mushrooms, sliced
1 tablespoon black pepper (or to taste)
¼ cup tamari soy sauce
2 cups diced celery
1 cup diced onion
½ cup butter
1 cup water
2 cloves garlic
2 tablespoons sage

Cube bread, then lay them out on a cookie sheet overnight to dry.
Melt ¼ cup butter in a frying pan and sauté the onion, celery, mushrooms, and garlic until just tender. Add the remainder of the ingredients, except the apples and simmer until butter is melted. in a large bowl add the apple and the bread. Pour the sautéed mixture over the bread and mix well.
Bake in a covered casserole for about 20 minutes at 325°F or stuff inside turkey and Enjoy! You can add cooked, chopped giblets from the turkey to this recipe!