Browse Our Recipe Categories
Newest Recipes
Baked Goat Cheese with Roasted Garlic and Caramelized Red Onion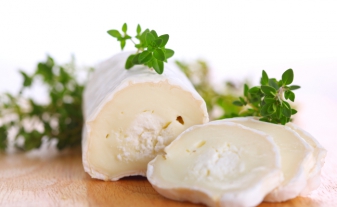 Baked Goat Cheese with Roasted Garlic and Caramelized Red Onion
6 Appetizer Servings
12 large garlic cloves, peeled
1 tablespoon oil
2 tablespoons (1/4 stick) butter, (isle 12)
1 large red onion, thinly sliced
1 tablespoon (packed) brown sugar, (isle 9)
10 ounces soft goat or feta cheese, (isle 11)
1 tablespoon balsamic vinegar, (isle 5)
¼ cup thinly sliced fresh basil

Baguette slices or your favorite crackers, (bread near deli and isle 7 for crackers)
Preheat oven to 350 degrees. Arrange garlic cloves in baking dish. Drizzle with oil. Cover with foil and bake until garlic is very tender, about 30-40 minutes. Transfer garlic to rack and cool.
Melt butter in heavy large skillet over medium heat. Add onion and sauté until tender and beginning to brown, about 15 minutes. Add brown sugar, stir until melted. Remove from heat and cool. Spread onion mixture on bottom of 8x8 inch glass baking dish. Sprinkle cheese and arrange roasted garlic atop. (Can be prepared 1 day ahead. Cover and chill.)
Preheat oven to 350 degrees. Bake garlic mixture until cheese melts but mixture is not bubbling, about 10-15 minutes. Remove from oven. Drizzle balsamic vinegar and sprinkle with basil. Serve warm with baguette or crackers.