Largest vitamin and cosmetic department
on the central coast
Staff of Life Natural Foods - offers the largest vitamin and supplement supply in all of Santa Cruz County. For over 46 years, Santa Cruz has trusted us to provide the most complete selection and best prices of natural vitamins, supplements, homeopathic remedies, shampoos, soaps and cosmetics available. Whether you need a tincture or fresh bee pollen, a hard to find vitamin or supplement, specialty pure natural skin care or an exact herb or essential oil, Staff of life has it all. Voted by GoodTimes readers as the best Vitamin Store 10 years running, we specialize in providing our customers the most varied selection at the best prices. Stop by today to experience all that Staff has to offer.
Our Vitamins & Cosmetics Department has one of the largest selection of vitamins and health products in northern California. This allows us to offer our customers some of the lowest prices available. Visit our Vitamins & Cosmetic Department and you will see a vast array of sale and discount items, along with our everyday low prices. We strive to find the cleanest products that are petroleum and animal testing-free. Some of our cosmetic products are so natural and organic you could eat them!
Vitamins and Supplements
Whether you are healthy and trying to keep it that way, or sick and tiered of conventional medicine, we can help you with our large array of supplements, vitamins, and formulas. Our staff is knowledgeable and helpful. We are here to help, so don't hesitate to ask.
Not sure why you came into the department? Ask one of our staff to show you around or tell you about a new and exciting product. We are constantly learning and growing and are here to inform you and support your well being. Please also visit our open-to-the-public trainings and hear the companies we carry tell you exactly why they belong among such an awesome array of products.
Our mission is to educate, in a social, comforting, and cheerful environment, and create awareness for alternative medicines and local companies!
Bulk Cosmetics Department
Our bulk department is something to marvel at on its own. With over 40 different shampoos, creams, soaps, cleansers, and oils, we're sure you'll find something you like. If not, we can special order it for you! Bring in your own container, or purchase one of ours, and fill up with your favorite cosmetic products in a more eco-friendly way. You'll save money, and plastic, while enjoying our great selection. Combine, or use as is, bulk products are the way to go!
Gifts Galore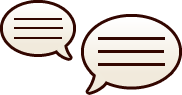 Common comments, questions
and feedback.