Fresh quality ingredients
Stop by the Staff of Life Sushi counter and experience what our customers' say is the "Freshest and Best Sushi available". Our customers rave about our sushi and with good reason. Only grade A fish is used to give you the best quality and freshest sushi available. The harmonic blend of great taste and nutritional value makes sushi an appealing choice for a meal or snack. With a clean, light taste that doesn't sit heavy in the stomach, sushi is high in protein and low in fat and sodium. We welcome you to come into the Staff of Life and enjoy these fast and convenient meals that are both healthy and affordable.

Feeling adventurous? We have all you will need to make Sushi at home. You can pick up Nori, Sushi Rice, Rice Vinegar, a Sushi Rolling Mat, Sashimi Grade Ahi, prepared Unagi, wasabi, soy sauce, your favorite vegetables of choice - and don't forget the Sake!
Special order sushi trays are also available. Stop by our counter and speak to our sushi chef to get all the information and choices.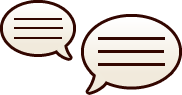 Common comments, questions
and feedback.