selection - variety - great prices
At Staff of Life we provide our customers with the best product at the best price. Everyday items including Non-GMO , gluten free, raw and hard to find products are our speciality. Browse our isles and find countless choices of the freshest all natural and organic food available. Our dairy has over 20 different kinds of yogurts and 10 different varieties of eggs. Our shelves are stocked with the best seletion of health bars and over 15 different varieties of milk. Stop in today and see the best selection at the best prices!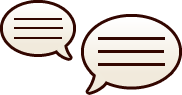 Common comments, questions
and feedback.