Organic plants for your garden
As you enter our store take a minute to stop by our extensive Garden and Floral Department! We have everything you need except the green thumb. Stop by to check out our large variety of organic vegetable and herb starts, garden plants, fresh flowers, garden gifts and a wide variety of organic fertilizers and pest control products. Whether you are looking for a quick bouquet, a special gift or plants to add color to your garden, Staff of Life Garden department has it all.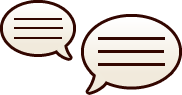 Common comments, questions
and feedback.