Save Money - Shop Bulk
Staff of life has the largest bulk seleciton on the Central Coast. Over a thousand products including a wide selection of flours, grains, rice, beans, teas, spices, granolas, nuts and seeds, trail mixes and candy.
Bring your own packaging or use our instore containers.
When buying in bulk you save both yourself and the planet. There is a significant cost savings and you save on packaging.
BULK LIST LINK COMING SOON!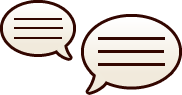 Common comments, questions
and feedback.